Fort Marlborough located on Jalan Ahmad Yani, Bengkulu, was built by the East Indies Company in the past three centuries. Fort Marlborough in 1713 until 1719 was made a fortress of British under the leadership of Governor Joseph Callet.
Formerly, Fort Marlborough was the second strongest British fort in the east, after Fort St. George who is in Madras India. This fort became the largest British fortress in Southeast Asia.
Fort Marlborough has an area of around 44,100 square meters, the walls are as thick as 3 meters, and are built up to as high as 8.5 meters. Fort Marlborough stands towards the city of Bengkulu and backs the Indian Ocean.
Fort Marlborough is shaped like a turtle if we look at it from above. The main door looks like a turtle's head, while the fort looks like the animal's body. Around Fort Marlborough there are artificial trenches full of traps typical of British fortresses.
You may also like:
Selong Belanak Beach Lombok

A British Ambition
Some sources say that Fort Marlborough is a fortress that is also the main of the sea port. This allows the British to control the entry and exit of the ship to Bengkulu.
As British power grew stronger in Bengkulu, the fortress slowly changed its function to become the center of trade and supervision of trade shipping lines that passed through the Sunda Strait.
At this port, British could monitor the smooth supply of black pepper for a British trading company, East Indian Company. British wanted to master Bengkulu black pepper commodity at that time. This can be realized through its trading headquarters in Fort Marlborough.
You may also like:
Prambanan Entrance Fee & Visitor Information

The Prisoner Room
We can find two corridors inside the fort, which used to be used as a detention room for Indonesian fighters. President Soekarno was also jailed there. There is a wall in one of the detention cells, which is littered with blood from a Dutch prisoner who has now turned black.
He scratched and wrote the wall with his own blood on the cell wall of the prisoner. He drew four directions and wrote in Dutch about the outpouring of his heart. He described his suffering during his imprisonment.
When we go inside the fort area, we will see also three tombs, Resident Thomas Parr, Charles Murray, and Capt Robert Hamilton. The three were buried inside the fort because British was worried that Bengkulu residents who were against the invaders would damage the three tombs.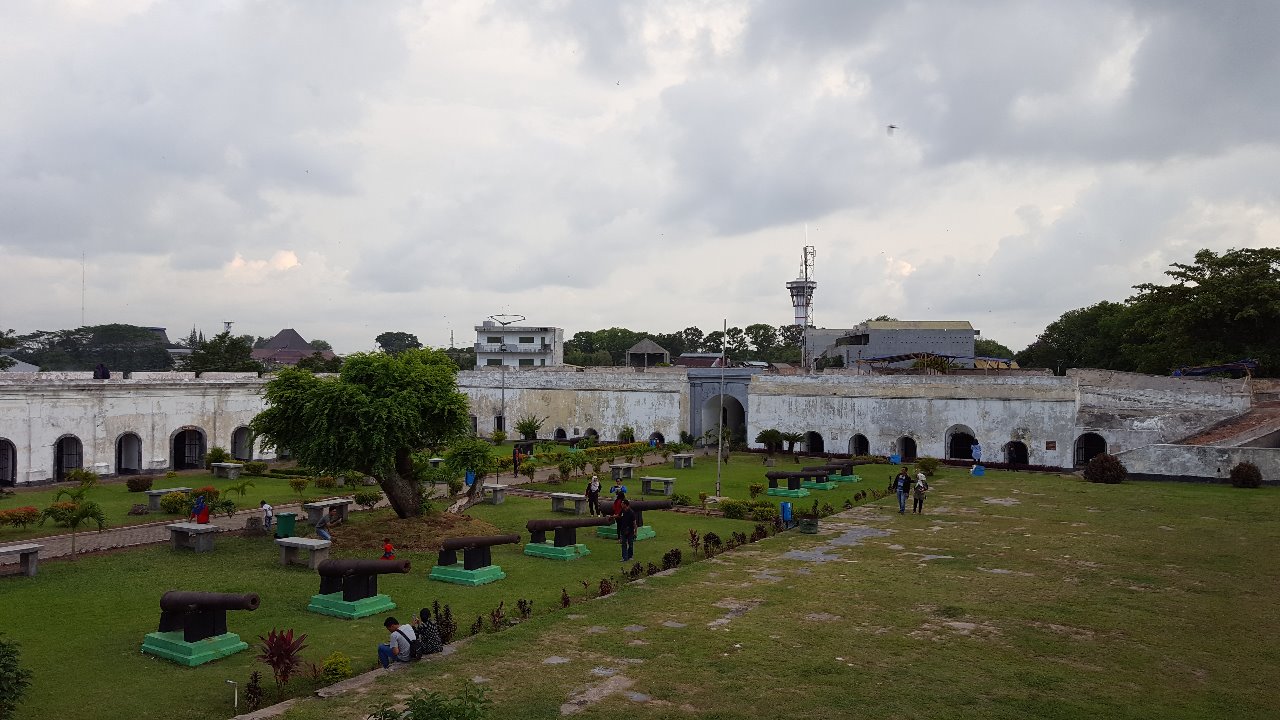 At Fort Marlborough there is also a lawn filled with eight old cannons that are still very preserved today. The old cannon is always cleaned with chemicals to prevent corrosion.
You may also like:
Dreamland Beach Bali | A surfers' paradise